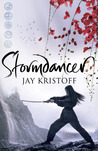 Stormdancer by Jay Kristoff
My rating: 3 of 5 stars

3.5 Stars – Great world and great story, but rushed and a little bit stereotypical at times.
I decided to tackle this as a series instead of individual books. I had attempted to start Stormdancer 3 – 4 times since its publication date, and for one reason or another, it never stuck. This time, I picked it up for and vowed to power through whatever my block was, and I'm glad I did. On the other side, I found an amazing, unique world, a believable government, and somewhat stereotypical characters.  Overall, it wasn't the best story I've ever read, but it was fun, entertaining, and time well spent.