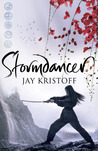 Stormdancer by Jay Kristoff
My rating: 3 of 5 stars

3.5 Stars – Great world and great story, but rushed and a little bit stereotypical at times.
I decided to tackle this as a series instead of individual books. I had attempted to start Stormdancer 3 – 4 times since its publication date, and for one reason or another, it never stuck. This time, I picked it up for and vowed to power through whatever my block was, and I'm glad I did. On the other side, I found an amazing, unique world, a believable government, and somewhat stereotypical characters.  Overall, it wasn't the best story I've ever read, but it was fun, entertaining, and time well spent.
Kristoff builds a great world. It was complex, complicated, and dirty.  It was that grit that made it really believable. It was as political as needed to move the story along, but not getting mired in the details and turning into a Game of Thrones with steampunk samurai.  The book follows the tail (seewhatididthere?) of an arashitora (or griffon) and a girl, Yukiko who can talk to animals telepathically.  Through a series of unlikely events loosely roped together as 'fate', the two seemingly imcompatible beings become friends.  Their relationship starts off convoluted and complicated with many differing motivations, but most of those fall away as the two grow closer together.  They do a lot of 'glazing over' some of the more unpleasant aspects of their early relationship.
What I think I loved the most about the world Kristoff created was the culture that clearly stands apart from normal western experience. The concept of clans and the tattoos on the upper arm representing clans was very cool and the clan/tribal mentality was really interesting to read about.  The culture mashed the steampunk genre into the feudal style Japan and did it well.  Really well.  The culture and the world building are the best parts of this series.
I think where it lost the most momentum was the development of the main character, Yukiko.  She starts off so interesting, someone who's strong and stands up to the Shogun (whoever minutely).  But as the story progresses, she looses some of that power and peters out into a stereotypical teenage girl who's alternately moody, swoon-y, and seemingly wise beyond her years all at once.  There were moments where the shift was so jarring I thought I might have been reading about a different character.
I also feel like the Viking-like tribes left a bit of something to be desired.  They play a pretty pivotal role in the story but don't have much background or substance.  I wanted to know more about them, who they were, why they were.  Their never really resolved into anything satisfying, which left them feeling more like a shoehorned plot device than a fully fledged culture.  I think if Kristoff hadn't done such a great job creating the culture of Shima, the difference between the two wouldn't have been as glaring.
Towards the end, things started moving and changing quickly.  It felt a little bit like "oh, well gotta tie up all these loose ends conveniently…"  There are some events towards the end that did more to annoy me than anything else.  I didn't see any story motivation for them other than and easy way to to wrap things up.
But in the grand scheme these complaints are minor. The story was still fun and engaging–really is it possible to NOT love steampunk samurai?  I don't think so.  Good story, fun setting, and overall great experience–just don't expect complex characters who deviate too far from expected stereotypes.